Thank you for supporting the Youth Scholarship Fund
by purchasing Colorado Peaches!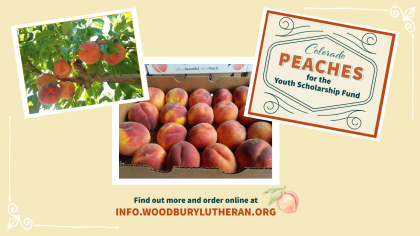 When will my peaches be available?
We expect the peaches to be delivered this week with pick up available on Thursday, August 4 from 10am-8pm and Friday, August 5 from 10am-2pm. Many factors come into play including weather, truck driver's route, etc., so watch for an email in your inbox!
Where do I pick up my peaches?
Peaches pick up will be at Woodbury Lutheran's Valley Creek Campus (7380 Afton Road, Woodbury) in the Bridge youth room. (Park in the East Lot.)
If you ordered ½ crate, please bring something to carefully carry about 15 peaches.
If you are paying when you pick up, we accept cash (exact payments appreciated) and checks only. Make checks out to Woodbury Lutheran Church.
You are welcome to have someone else pick up your peaches if you are on vacation or unable to make it here on the dates below.
IMPORTANT: If you are unable to pick up your peaches during these hours, call or text Julie Wolterstorff (651-230-5048) as soon as possible.