What is Multiply?
Initiative Ends Dec 31, 2019
---
Multiply FALL 2018 Update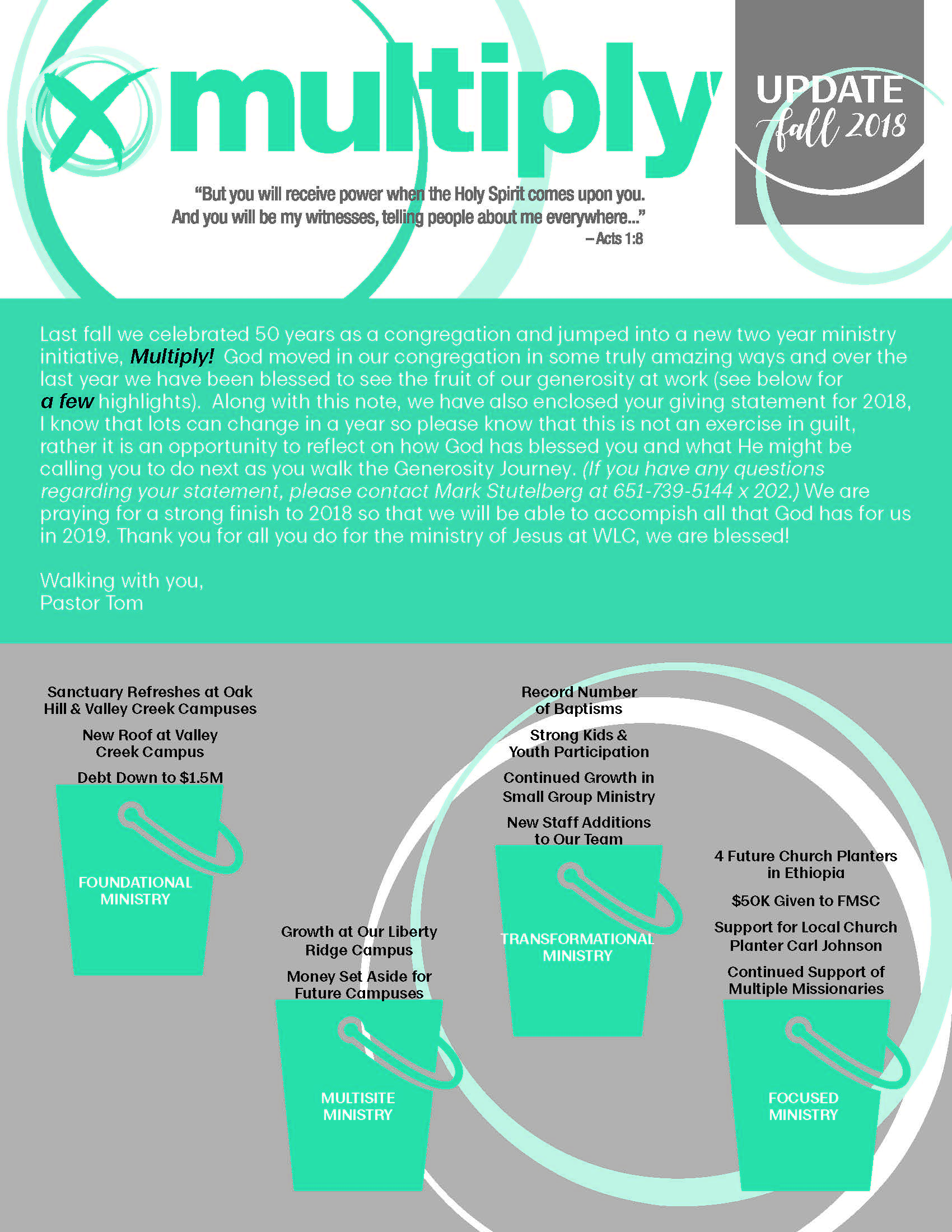 Multiply Spring 2018 Update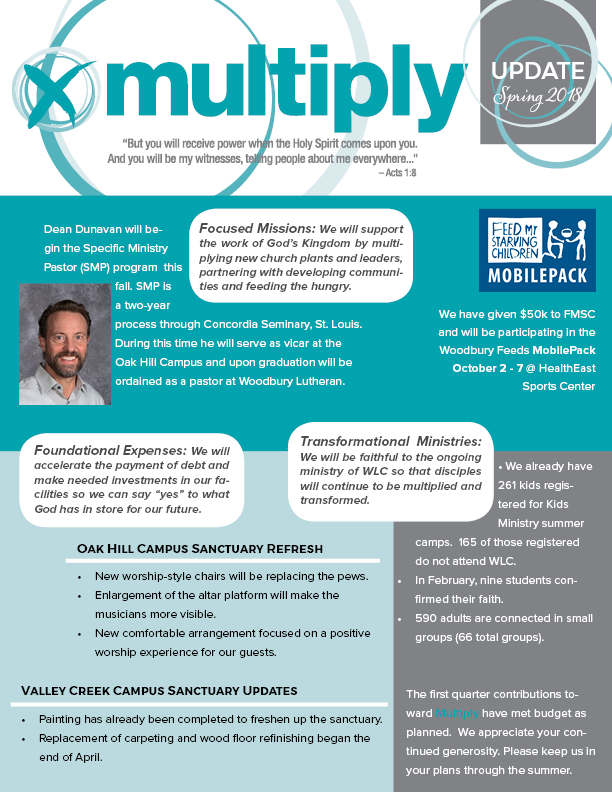 ---
Multiply Update 3/18/18
---
"Jesus, unleash Your power in me, in my relationships, in our communities, and in Your world. Amen."
But you will receive power when the Holy Spirit comes upon you. And you will be my witnesses, telling people about me everywhere... - Acts 1:8

What if... by God's power we could Multiply what we are doing Missionally? What if... by God's power we could Multiply a multisite war chest that would allow us to be ready for future campuses? What if... by God's power we could Multiply our effectiveness by cutting our debt? What if... by God's power we could Multiply our spiritual impact on members and guests by refreshing our current worship spaces?
We continue to actively seek God's guidance as we live out our vision to Multiply Disciples // Transform Lives. As we have prayed and asked for His leading we believe He is calling us to specific ministries during 2018 and 2019 that will require $8.4 million in giving over these 2 years. (Rather than dividing the needed funds into regular operating + capital campaign, Multiply includes the entire ministry God is calling us to and puts it all into one fund.) We believe God has placed the resources in our midst to reach this goal!
In Acts 1:8, Jesus promises to unleash His power in His followers by the giving of the Holy Spirit. We're asking you to pray the prayer below and consider what effect the unleashed power of Jesus might have through you as you live generously. Our prayer is that 100% of us will take a step of faith and witness how God will Multiply our gifts for His kingdom!
Following Him,
Pastor Tom
---

Multisite Investment + Focused Missions + Transformational Ministries + Foundational Expenses = MULTIPLIED IMPACT

Multisite Investment
$1.1 Million
We will be proactive in using the blessings God has given us to multiply new campuses for His glory.
Funds will be used for:
Building up a reserve for future multisite ministry opportunities.
Building a reserve for a future, permanent location for the Liberty Ridge Campus.
Fully funding the Liberty Ridge and Oak Hill campuses.
Focused Missions
$1.1 Million
We will support the work of God's Kingdom by multiplying new church plants and leaders, partnering with developing communities and feeding the hungry.
Funds will be used for:
Providing one million meals for at-risk children through Feed My Starving Children. (WLC will host four on-site MobilePacks during 2018-2019 at a cost of over $200k.)
Continuing to partner with missionaries and mission organizations throughout the world.
Focusing on developing future leaders and planting new churches locally and globally.
Continuing to provide short-term mission experiences and bringing the love of Christ locally in the Twin Cities area.
Transformational Ministries
$4.5 Million
We will be faithful to the ongoing ministry of WLC so disciples will continue to be multiplied and transformed.
Funds will be used for:
On-going ministry costs (kids and youth programming, etc.)
Utilities, insurance, building maintenance, etc.
Staff salaries and benefits
Foundational expenses
$1.7 Million
We will accelerate the payment of debt and make needed investments in our facilities so that we can effectively say "yes" to what God has in store for our future.
Funds will be used for:
Aggressively paying down debt.
Continuing to update our signage and buildings, including the sanctuaries at Oak Hill and Valley Creek Campuses.
Capital improvement projects to roofs and both Oak Hill and Valley Creek Campuses' HVAC projects.
---
Why are we doing this?
God has blessed us and positioned us as a church to use the talents He has given us to Multiply Disciples and Transform Lives.
It is time to pivot the posture of our church to generosity and multiplication.
To see continued growth in attendance and see the number of regular givers grow by 20%.
Continue to use the resources God has given us to bring transformation.
Why now?
The Lord has multiplied His blessings over us for the last 50 years and we will celebrate all He has done. But we do not believe God is finished with us yet and we believe now is the time to step into His lead for the next 50 years.
The mission is urgent.